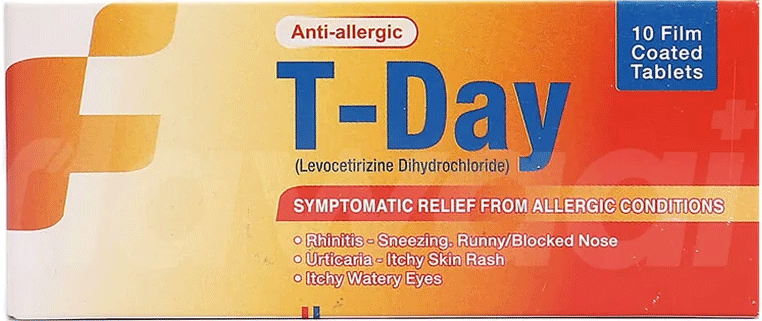 T-Day Tablet in Pakistan is widely known as an effective anti-allergy medicine for treating various allergic conditions. The active ingredient in T-Day is Levocetirizine Dihydrochloride. It blocks histamine production in the body and relieves allergy symptoms. You can take this medicine orally once a day. It provides an easy and convenient way to treat allergy-related symptoms. With its proven effectiveness, the T-Day tablet is a popular choice among those looking for a reliable solution to their allergy struggles.
T-Day Tablet in Pakistan
Benefits:
T-Day Tablets and syrup provide relief from various allergy symptoms, such as:
Sneezing
Stuffy nose
Eye irritation
Itching and Rashes
Urticaria (hives)
T-Day Tablet Uses:
T-Day 5mg Tablets and syrup are primarily used to relieve symptoms associated with:
Allergic Rhinitis
Rashes and Itching
Utricaria
T-Day Brand Name:
T-Day tablets and T Day syrups are two brands of skin allergy medicine manufactured by GlaxoSmithKline (gsk). This medicine contains the active ingredient Levocetirizine Dihydrochloride.
Product Description:
Generic name: Antihistamine
Ingredients and Composition:
Each film-coated tablet contains: levocetirizine dihydrochloride – 5mg
Pack Size: 10 tab
Dosage:
Take this medicine by mouth, do not chew or crush it.
You can take this medicine with or without meals.
The dosage depends upon the health, age, and medical condition of the patient. Consult your healthcare professional for details.
T-Day Tablet Side Effects:
This medication has some common side effects including:
Sleepiness
Headache
Blurred vision
Runny nose and cough
Dry mouth
Diarrhea
Nausea or vomiting
Difficulty passing urine
T-day Tablet is an antihistamine that provides relief from various allergy symptoms. It is important to understand the benefits, uses, dosage, and precautions associated with the medication to ensure safe and effective use. If you have any concerns or questions about these tablets, it is always best to consult with your healthcare provider.
T-Day Tablet Side Effects in Pregnancy:
T-Day Tablet, commonly used for the treatment of allergies in Pakistan, may have potential side effects for pregnant women. It is important for women to discuss the use of T-Day Tablet with their healthcare provider before taking it during pregnancy.
Precautions:
This tablet should not be used by individuals with a known allergy to the medication. Additionally, it is not recommended for use in patients with end-stage kidney disease and creatinine clearance of less than 10 ml/min. The medication should also not be used in children under the age of 12 with impaired kidney function.
T-Day Tablet and Syrup in Pakistan:
You can order T-Day tablets and syrup online. The price of T-Day 5mg tablet in Pakistan is Rs. 97. Click here to buy.
90ml T-Day syrup price in Pakistan is Rs 98. Click here to buy.
Will this medicine affect my driving ability?
Yes, it may cause drowsiness, and it is important to be cautious while operating heavy machinery or driving a vehicle.
Disclaimer:
The use of any medicine carries inherent risks and it is important to consult with a healthcare professional before taking any medication. This includes discussing any potential side effects or interactions with other medications you may be taking, as well as any pre-existing medical conditions you may have.
It is also important to follow the dosage and administration instructions provided with the medication. This is not a substitute for professional medical advice, diagnosis, or treatment. Always seek the advice of your physician or another qualified healthcare provider with any questions you may have regarding a medical condition.